Do what you love without all the other hassles. Teach STEM classes to excited, happy, nerdy kiddos!
Grades 1-3 & 4-7.
Hiring begins Jan 1, 2023
Ends when all positions are filled. So apply ASAP!
Summer 2023 will be from June 5 to July 7 and held in Bldg 4 at Eduprize in Gilbert. 
Do what you love, in an awesome environment!
We named it Nerding for a reason. This attracts those nerds out there who love to learn. You will get to do what you love, which is teach kiddos who are excited about the class topic! Class sizes are max 20 nerds. Each class is staffed with a teacher, an adult assistant, and volunteers who float between classes depending on tasks.
Summer classes are half day Mon-Fri – AM Classes: 9-12, PM Classes: 1-4. You do not have to work every week. Schedule around your summer plans. Most teachers teach the same class for 3 or 4 weeks. Teachers can also teach half day and then assist half day to maximize summer hours. Up to you. 
We have the highest compensation in our sector. 
We make the pay simple. A class is Mon-Fri 3hrs each day. Here is the pay per class:
Teachers = $600 per Class (~$40/hr)
Assistants = $225 per class (~$15/hr)
Certified teachers on summer break!
Retired Teachers
Substitute Teachers
3 or more weeks, half day
Classes run M-F, 9:00-12:00 or 1:00-4:00
Certified Teacher
Current AZ fingerprint clearance.

CPR Certified (is a plus)

5+ years classroom experience
Good classroom management skills
Energetic and engaging
Love teaching and learning STEM!
One of our core values is to value our teachers and pay them well! Each week long half-day class you teach is $600. Our teachers train in 1 or 2 class topics and teach those classes multiple times over the summer = about $1800 – $3600
*Returning teachers must still apply
Teacher friends

Parents of Nerding kiddos

Future teachers
3 or more weeks, half or full day
Classes run M-F, 9:00-12:00 or 1:00-4:00
Age 18+

Current AZ fingerprint clearance.

CPR Certified (is a plus)

No experience necessary, but welcomed
Comfortable in a classroom
Good at taking direction
Loves working with kids and STEM!
Typically, assistants arrive 15min before class and leave 15min after. You can assist for AM, PM or both classes. Some assistants stay to run lunch or help with various Nerding tasks. The pay is hourly at $15/hr. One class = about $225
Nerds who have aged out of Nerding

Teens needing volunteer hours

Adults with attending nerds
3 or more weeks, half or full day
Classes run M-F, 9:00-12:00 or 1:00-4:00
Under age 18 OR adult related to a child attending Nerding OR adult with AZ fingerprint clearance card.
Love working with kids and teachers in the classroom
Good at taking direction
Loves working with STEM related activities!
30 feel goods/hr. That's 1 feel good every 2min. Can't find that rate anywhere else. You will feel like one of the fam! We also give you a coveted "Blue Shirt" just like the pros wear. We will also sign your Volunteer Hours sheet.
You really DO NOT need to be a tech or science expert! You DO need to be a great teacher and generally awesome human. We can get you up to speed on our class curriculum in just a couple hours, but we certainly can't teach you to be an amazing teacher in that time. This is why we hire certified teachers. You are already awesome.
Choose from our many different class titles. It depends on what type of class sounds fun for you. You don't need to be an expert in any of the related STEM fields the classes are based on. All of our classes are introductory and geared for grades 1-3 or 4-7. We have tech (computer/ipad) based classes as well as hands on building, STEM challenge, and experiment based classes.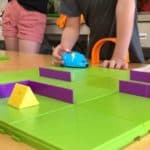 You are in good hands!! Niecy Westmoreland will go over the class with you. It only takes a couple of hours to learn the curriculum. We have plenty of support materials and video examples.
Once you know a class you can teach it multiple time this summer…and next! Our teachers often return the next summer and teach the same class. 
Grades: Classes are geared towards grades 1-3, and 4-7.
Capacity: Each class will have a max of 20 Nerds with 1 Teacher, 1 Teacher's Assistant, and possibly 1 Volunteer.
Class Length: 1 week, Mon-Fri. Same classes are available more than once over the summer. For example, we might run 3D Printing class 5 times. The same teacher usually teaches all 5 classes.
Class Times: AM Class runs 9:00am-12:00pm. PM Class runs 1:00-4:00.

Lunch Time: an assistant or other staff member watches the kiddos.
1383 E Baseline Rd Gilbert, AZ 85233
Eduprize – Gilbert
June 6 – July 8

Summer 2022 will be our second summer at Eduprize in Gilbert. It was an amazing experience last year and we are truly looking forward to another awesome summer there!
Our mission is to provide high quality STEM classes for kids to develop creative thinking, problem solving, perseverance, grit, and to facilitate the discovery of new passions! BUT, secondary only to the kiddos experience, is the experience of the teacher when working for Nerding. We have created what we believe to be the perfect joyful teaching environment.
You will experience teaching the way you always wished it could be:
– A class full of nerds who are excited to be there and learn
– short and sweet work day
– no grading or paperwork
– excellent support from Niecy and Micah
– room in the curriculum for your own creative ideas
– all supplies ready to go
– and great pay for your efforts!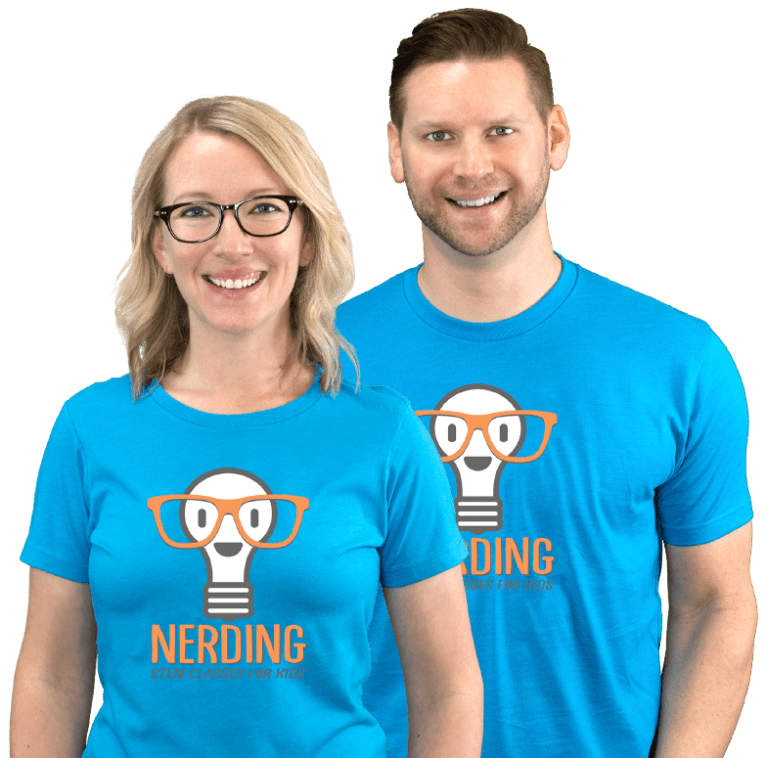 Question?
Click the Live Chat icon bottom right of your screen.
One of us will answer!