Do what you love without all the other hassles. Teach STEM classes to excited, happy, nerdy kiddos! Grades 1-2 & 3-5.
"Our mission is to provide high quality STEM classes for kids to develop creative thinking, problem solving, perseverance, grit, and to facilitate the discovery of new passions! BUT, secondary only to the kiddos experience, is the experience of the teacher when working for Nerding. We have created what we believe to be the perfect joyful teaching environment. Our teaching positions are a great fit for: Recently retired teachers, current or former substitute teachers, college students working on their teaching degree, those with similar job experience." – Niecy & Micah
Have questions?
Call us at (833) NERDING
We are currently looking for dynamic Certified Teachers for Grades 1-2 and 3-5 to teach our after school STEM classes in the Kyrene and/or Chandler school districts – Tempe, Chandler, Ahwatukee, Gilbert, Queen Creek, Arizona areas. The class you teach will depend on your interests, the existing class schedules, your desired locations, and available curriculum. Classes include topics such as Robotics, Coding, 3D Printing, Virtual Reality, Graphic Design, Wizard Science, Science of Bubbles, STEM Challenges, Space Science, and more. Aside from teaching the classes your time will also include prepping materials (at home), setting up the classroom, cleaning up after class and taking all mobile supplies with you. Additionally, you'll ensure that each Nerd gets safely to the appropriate destination after class.
You would teach 1 class topic/subject per school quarter at 3 to 5 different schools.
You will most likely teach that same class at 3-5 different schools the following quarter.
Classes are 6 weeks long and meet once a week.
Class times are roughly Mon-Fri 2:15-3:45 (wed at some locations is 12:00-1:30)
Each class will have a max of 20 Nerds with 1 teacher and 1 adult assistant to help you.
Let's do the math; $40/hr = $80/day = $480 per 6 day class.
Work from around 2pm – 4pm. Some campuses have early release days. times vary based on school. Each class is 90min. You need to arrive about 20min before class. After class, parent pick-up usually takes about 5-10min.
3 to 5 days a week
Weekdays about 2:00pm – 4:00pm
Wednesdays might be 12:00pm – 2:00pm (depending on school)
Certified Teacher (w/some exceptions)
Ideal: 5+ years classroom experience
Current Level 1 AZ Fingerprint Clearance
CPR Certified (is a plus)
Strong classroom management skills
Energetic and engaging
Love teaching and learning STEM!
Our teaching positions are a great fit for:
– Recently retired teachers
– Current or former Substitute Teachers
– College students working on their teaching degree
– Those with experience from another similar job
Choose from our many different class titles. It depends on what type of class sounds fun for you. You don't need to be an expert in any of the related STEM fields the classes are based on. All of our classes are introductory and geared for grades 1-2 or 3-5. We have tech (computer/ipad) based classes as well as hands on building, STEM challenge, and experiment based classes.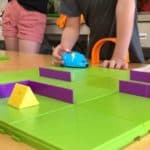 You are in good hands!! Niecy Westmoreland will go over the class with you. It only takes a couple of hours to learn the curriculum. We have plenty of support materials and video examples.
Once you know a class you can teach it for half a school year! See our schedule below and you will notice the class for Qtr 1 switches to the other 5 schools for Qtr 2! Meaning, if you teach all year, you only need to learn the curriculum for 2 different class topics.
Our class schedule follows the school year quarters. Each quarter you will teach a new class that spans 6 weeks, teaching one 90min session per week at each school. You will arrive 20min before class, and stay until all kids are picked up – which is usually immediately.
*Notice Wednesdays in Kyrene and Gilbert are early release days so your class will start a bit earlier. Actual time depends on the school and district.
Cielo
Norte
Waggoner
Brisas
Mirada
Paloma
KTA
Cerritos
Monte Vista
Sierra
Knox
Fulton
Tarwater
Weinberg
Hancock
Basha
Ryan
Haley
Mesquite
Carol Rae
Greenfield