S.T.E.M. Classes For Kids
Engage your child to their full nerd potential with our week-long STEM classes held over Fall break, Winter break, and Spring break. Your nerd will thrive as they learn about highly engaging STEM topics through metric tons of exciting hands-on activities!
OPEN TO EVERYONE!
*Registration handled by CUSD via Eleyo
OPEN TO EVERYONE!
*Registration handled by CUSD via Eleyo
Join our Astronaut Training program! In this class learn about our solar system: what's in it, how it formed, and how we are exploring it!
Read More »
Learn the shocking secrets of electronic circuits and make inventions of your own! You'll also use a Makey Makey to build fruit pianos, gummy game controllers, and wacky keyboards!
Read More »
Have you ever wanted to learn more about virtual reality (VR)? Do you want to code your own unique games and play them in a VR headset? If so, this class is for you!
Read More »
OPEN TO EVERYONE!
*Registration handled by CUSD via Eleyo
Attend all day and stay for lunch by signing up for an AM and a PM class!
Lunch is not provided. Please pack your own if attending all day.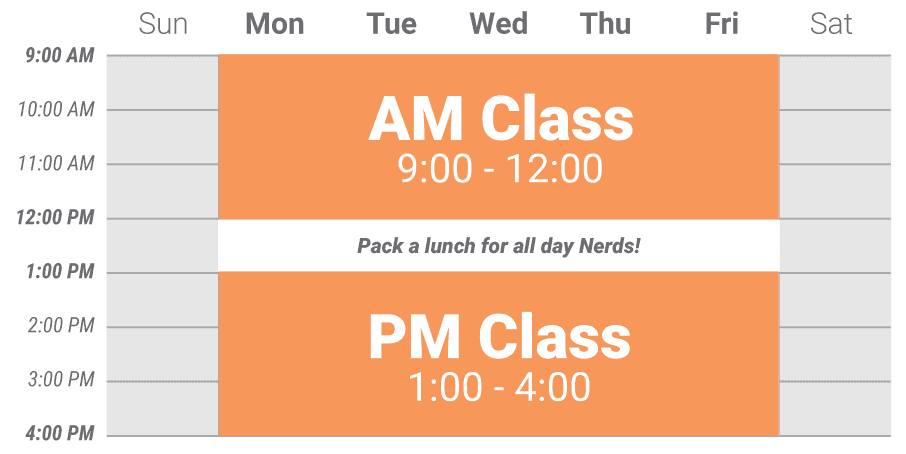 How we run classes at each grade level.
Our Little Nerd classes are engaging and exciting and vary greatly in content and structure, but in some form there is always an engaging, interactive lesson from the teacher, guided practice, and independent or small group work with help and support from peers and staff.
We usually begin the day with a team building activity and move into our first lesson. Next is a hands-on activity or project. Halfway through the class, kids will take a brief recess and snack break. A second lesson follows break and the kids will do another project/activity or continue one they were working on. 
Bottom line: It's hands-on, interactive, fun learning.
Our Big Nerds classes have 2 types: regular classroom classes and computer lab* classes. The regular classroom classes run very similarly in format to the Little Nerds classes, essentially lesson, building/work, break, lesson, building/work. It's always fun and engaging with hands-on projects!
Our computer lab* classes are Graphic Design, Virtual Reality, Coding Games, and 3D Printing. All of them require design or coding software that we provide account access for. The class will be based around learning that software to design or code the assigned projects. In addition to instruction on the software, all of these classes include lessons about how to connect what we are learning to the real world. There may be some building of physical projects mixed in, and we will certainly take breaks, but the majority of the class is spent working in the lab.
*We strongly recommend against taking 2 computer lab classes in the same week. It's too much sitting and screen time! Mix and match with a non-computer lab class if your nerd stays all day!